Nelson is a detailed Travel Agent that is very seasoned and has Johnny on the spot customer service! If you want exquisite  first class travel he is your man. On our most recent cruise to the Bahamasí I was very scared because it was my husband and I first Cruise and of course I was fussing over very detail and call Mr. Nelson every other day for about two months.
The day we were to board our ship the departure was delayed due to bad weather in the ocean. I called Nelson to complain  and he did not let my fear and worry stop him from assuring us it was going to be fine. He spoke to us all the way up to  the moment of boarding and to the departure. I was ever so worrisome.
To our surprise when we got in our cabin he had a beautiful basket of fresh fruit waiting on us with a note thanking us for using his organization for all our travel needs. ìI highly recommend Nelson Hollins to take your travel to the next
level, and not only will you see the world through his eyes, ears and many years of experience, but he makes each  interaction with him one to cherish for life!
Renda M. McElroy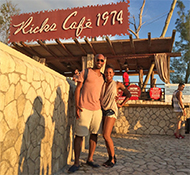 My wife and I recently worked with Five Star Caribbean Travel (Ultra World Travels) to plan our amazing honeymoon in Jamaica last month. We  reached out to Five Star Caribbean Travel (Ultra World Travels) for their services because we were unfamiliar with Jamaica. Also, with most of  our time being devoted to wedding planning/work, we needed someone who could assist us in planning from start to finish.
For our trip, He was able to provide first-hand accounts of the resort and all of his extracurricular suggestions were  worthwhile. Nelson also devoted a great deal of time to ensure our activities aligned with our interests; which in our
case was "adventure, relaxing, and eating good." We are grateful for Nelson's expertise and passion in ensuring we had  a fabulous honeymoon!
Justin and Elena Iglehart
Five Star Caribbean Travel (Ultra World Travels) scheduled my wife and I for a 2012 Christmas cruise for 7 days in the Caribbean. We were very  impressed with their professionalism in making the travel arrangements for us. From the necessary paperwork needed, the  flight, the transfer to the ship, to the accommodations, and our return, everything was excellent. Nelson made the arrangements and travel extremely easy, that is the way a vacation should be.
We plan on taking another cruise again soon and would not use any other travel agency except Five Star Caribbean Travel (Ultra World Travels). There is no doubt why they are called "Five Star."
Dr. Gary and Sheri Albertson
If you want to experience a memorable peaceful vacation make sure you have an experienced, reliable, and detailed travel  agent. Nelson with Five Star Caribbean Travel (Ultra World Travels) has made all our desires possible each time we have traveled. My husband and I reminisce often on our Honeymoon to Cabo San Lucas. I will never forget the look on my husbands' face when he saw our  resort…especially since he was on leave from being in Afghanistan. Everything Nelson promised me when we planned our  getaway was exact plus more. From the moment we left to the moment we returned Nelson took wonderful care of us. We are  leaving on our next dream come true MONDAY …THANKS TO OUR TRAVEL PROFESSIONAL!
Phillip and Rosie Martinez Jr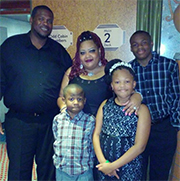 After so many years of wishing and wanting to take a family vacation trip, we finally found the opportunity to do so. A  family cruise vacation trip! Saving up for this trip allowed our family to finally experience what so many others with
kids were able to enjoy. Becoming aware of and using the services of Nelson with Five Star Caribbean Travel (Ultra World Travels) was one of  the best decisions for travel we could have made. Since there were five of us, we followed Nelson's recommendation of  booking two staterooms instead of one which really added to our comfort and enjoyment in more ways than one. All of our  questions and concerns were handled professionally in advance and everything went smoothly. We were celebrating our  anniversary and the unexpected treats and decorations we found in our staterooms were wonderful and delicious. We really  appreciate the efforts of Nelson to make our first family cruise enjoyable and with so many life long memories. We look  forward to using Five Star Caribbean Travel (Ultra World Travels) again for our next vacation trip!
Darrell and Yolanda Sanders & Family